The pets of the house have changed a bit since last year. Zoe, who gave you an account of Christmas 2015 is gone. Skylar AKA Floofy AKA Flookfin Schiffin AKA FLLLEEEEWWWWWFFFIIEEE, the cat, is still mewing about.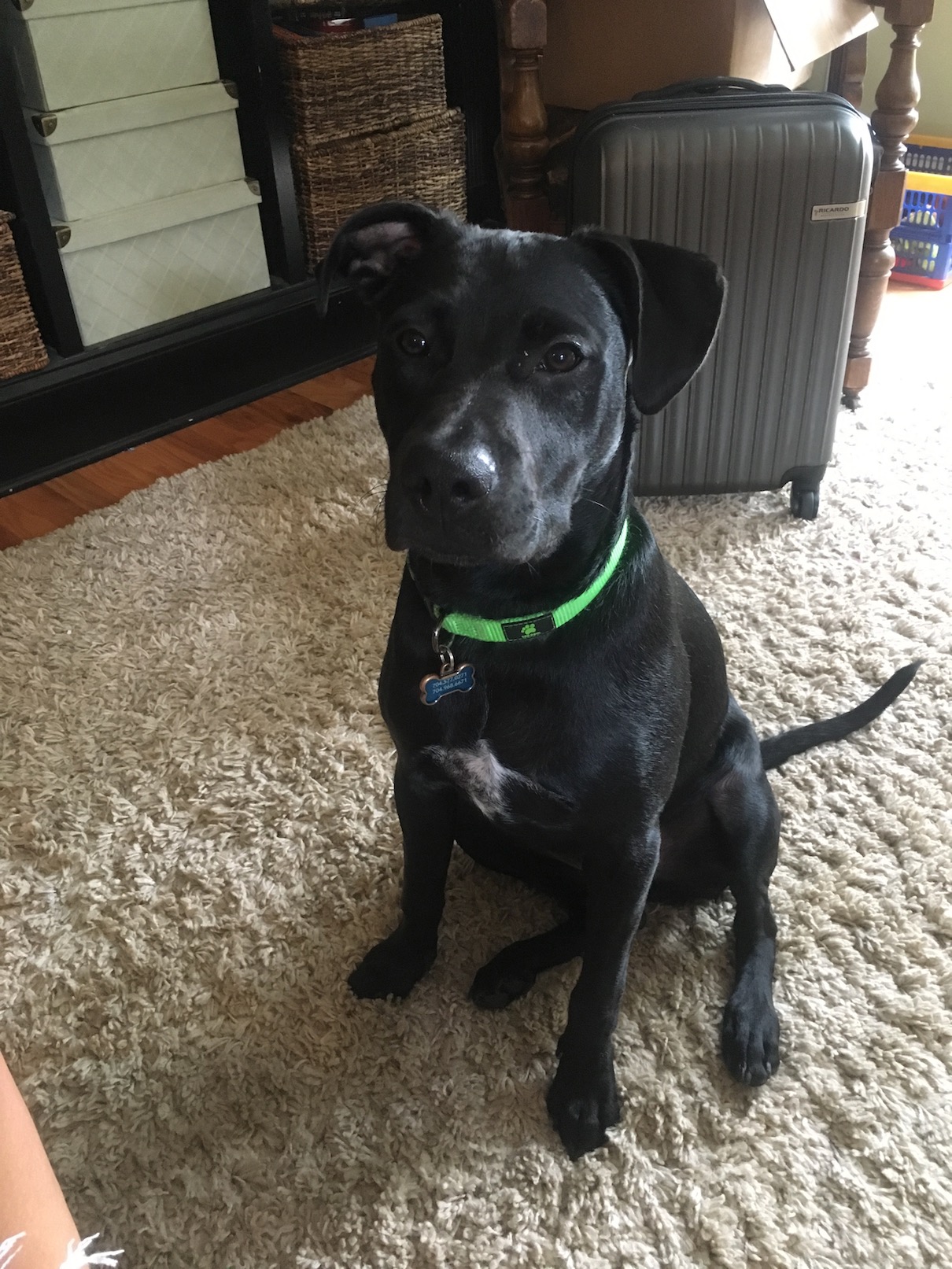 The newest addition is Archie, a dog we gave to Lily for her 10th birthday. Archie is a Lab/Pit mix, which means he looks like a small Lab most of the time, until he opens his mouth which is enormous. Seriously, I think Archie's mouth hinges at his hind quarters. It's kind of like watching a special effect from a B horror movie about dogs that turn into mouths that then chew on everything. And I do mean everything.
Anyway, Archie has fit into the family well, unless you ask Floofy, who is not a fan.
Q: Welcome to your first Holiday Letter! Are you excited?

A: I dunno. Can I chew on it?

Q: How are you liking your new family?

A: For the most part, they're great. The youngest one seems to think there is something on my face but under my skin. I like to chew on the fluffy one.

Q: Yes, stop that. Why do you like chewing on things so much?

A: I dunno. It could stem from an incident from my puppyhood where my mother was caught on some train tracks and the train was coming and I had to chew through her collar and I just couldn't chew fast enough...

Q: OMG! That's terrible! Did she make it?

A: Or MAYBE IT'S BECAUSE I AM A DOG?

Q: Oh, you made the mom-train story up. How would you like to go back to the shelter?

A: Oh, um, HA! Just kidding. You are the best! Here feel free to chew on my favorite toy! (Archie drops what seems to be the remnants of a full-sized soccer ball in my lap.)

Q: EW! Gross. That soccer ball wasn't your toy! Are you ever going to stop messing with the cat?

A: Unlikely. Best. Toy. Ever.

Q: Hey Skylar! How do you feel about Archie joining the family?

A: Hmmm...lemme think...let's say a group of people you thought were smart elected to bring a total moron with a big mouth into your home. Would you like that?

Q: Um, I think I can say from recent experience that I would not like that. Not at all. What are you gonna do?

A: Move to Canada.
Well, there you go. The Goodrich pets are as peculiar as ever, even when they are topical. Next year we hope to have a comprehensive list of items Archie has chewed into oblivion.