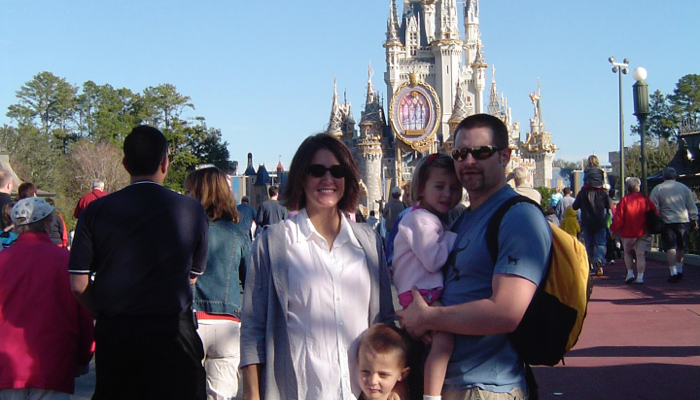 So, Disneyworld was fantastic! I have posted tons of pics in the albums, so check them out. We stayed at the Animal Kingdom Lodge with a view of zebras and wilderbeasts and the like. Day one was Epcot where we learned that our kids are not big 3-D fans. We had to sprint from "Honey, I Shrunk the Audience" b/c Emma was melting down about the snake and dog and such. We also can answer the question "Does Spaceshop Earth bore people of all ages?" with a resounding "Yes!" Gaga went on the Time Explorer ride with Logan and me, which abruptly ended her riding for the trip. We ended day 1 by dining with Cinderlla and a what had to be Prince Charming's understudy twice-removed. I am not sure what Emma will do with the rest of her life, now that she has accomplished her goal of meeting Cinderella, but hopefully she will find something.
Day two brought The Magic Kingdown, which was brilliant. You have not seen this place until you see it with your kids. All the old rides are new with them, and It's a Small World has had a face lift. Logan's favorite was the Buzz Lightyear ride and Big Thunder Railroad. We ate lunch with Pooh and friends, and Tigger stole Emma's lemonade. This event led us to the knowledge that when a 3-yr-old head butts a giant stuffed animal, it is still cute.
Day 3 was the Animal Kingdom and MGM, followed by pining for The Magic Kingdom. Although the other parks had their moments, we probably should've spent every day in the main park. There are tons of rides and activities that our kids could do over and over. The best part of MGM was meeting Chicken Little and I got to ride the adult rides (Tower of Terror and the Rock'N Roll Roller Coaster)
All in all, it was perfect. Upon arriving home, I found myself a bit depressed, longing for Mickey and his pals. We are already trying to plan a fall trip back, realizing that, before we know it, our kids won't want to go anymore…..
Thanks again, Gaga and Poppy, it was a great gift.
Since being back, Jill has been very sick, thinking at one point she had the flu. She doesn't and instead has been tagged with a nasty ear infection. At one point, the pain was so intense that she went to the ER for it. Top this off with being pregnant and my having to travel a bit, and we are now in the Tragic Kingdom. The kids have also both had the sniffles. Thanks goodness Grammie spent last week up here and could take care of everyone. So, we hope to be all heathly again soon, just glad that the germs didn't strike in Orlando…
comments powered by

Disqus