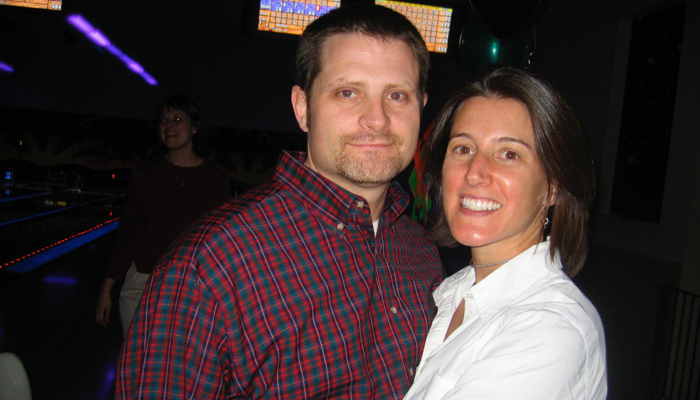 Well, Jill surprised Glenn on his birthday with some "extreme" (meaning, regular lights off, black lights on, put single bass-heavy rap song on repeat) bowling. It was a well-attended affair, drawing some of the South Charlotte's finest, and certainly the finest that bowling alley has seen in decades. Even with a strict No Gift Rule in full-effect, the gag gifts did flow:
Wine from the "Schwikeys"
The Fratchers gave the subtle "Anger Management" DVD
X-box nerd game from Horse and, by proxy, Nick.
Beer (sans alcohol) from the Challas'
Tara gave herself, which JR promptly ungifted.
Dean & Deluca caffeine package from the Atwoods.
Nothing that can be mentioned in decent company from Nesha
Wasp & Yellow-Jacket killer from the Florida Wilsons.
Candy, a shirt, and a cool birthday message from the Johnsons, winning the Most Thought Put into A Gag Gift Ever award. (Every underlined item was a piece of candy that came with the gift. Candy rocks. This was easily Logan's and Emma's favorite gift that Glenn received)
The bowling was fun, proving that bowling really is one of the things you can have zero talent for yet enjoy immensely. Oh, and Glenn was TOTALLY surprised, marking the first time that Jill has surprised Glenn since she said "I do".
Things around the house are still focuses on the imminent arrival of Tat. Jill is (please God) almost done nesting. At one point, she was taking stuff from other homes and packing it around the sides of the nursery, but I think we have gotten past that. Oh, and if you are still reading, I allowed anonymous posting to all the forums, so you don't have to join anymore.
I've included some new photos the kids shaving. BTW, the water is yellow b/c it was dyed with bath water-dying pellets, not for any other reasons (As far as we know). We'll try to be more frequent with the updates.
comments powered by

Disqus